Watch
Spending my rainy day in Vancouver learning about the formation of the Grand Canyon… I can't help but wonder: of the millions who have visited the Grand Canyon, how many left knowing they just stared into the earth's history at a gigantic scale. The rock at the bottom of the canyon is some of the oldest that can be seen by the human eye anywhere in the world! 1.84 billion years...
2 tags
Inka Trail 4 day Trek to Machu Picchu
We live in a beautiful world. It's true. This place is off the hook! If only we could all open our eyes to it. Traveling is not for everyone, I get that, but as long as you realize there are places that would take your breath away that should be enough. Or just appreciate what's in front of you on a daily basis. The Inkas had it right. They worshipped mother nature. Heaven wasn't a place up in...
Some time in Brazil.
Rio feels like it was an absolute whirlwind. My first impression was the 2 hour bus ride to Ipanema. I should have taken a cab from the airport but it was so cheap and recommended by my buddy in Buenos Aires. The traffic was nuts. When we had a bit of a clearing the driver took advantage and I thought I was on a plane ready for take off.. Until I was jerked to a stop. I felt bad for the people...
Last day in Buenos Aires 14.02.2012
Here are a few picks from BA. The post was in my drafts.. I forgot to put it up! As my month in Buenos Aires wraps up - I am writing on Valentines day (my last day here) realizing I am have totally fallen in love, and I just don't know how I'm going to make a long distance relationship with BA work ;)  La Boca!   how much is that doggy…..? I have met some pretty cool...
There is Solitude in Loneliness:
I can't believe the month has gone as fast as it did. It has truly been such an incredible experience living in a place I knew very little about, and not knowing a single soul. I feel like I have gone through waves of emotions… as you do when you have no one around to distract you. (Unless you want to). That reminds me of my friend I met here: For a few days I was hanging out with an...
Cafe Tortoni
As an avid coffee drinker it wouldn't be right not to mention this place. It's totally on the tourist trail, and marked on every map but Cafe Tortoni is the oldest cafe in Buenos Aires. It was founded in 1858 and seriously if those walls could talk! They would tell stories of the poets and playwrights that frequented.  Jorge Louis Borges use to hang out at the cafe! The history book...
Quieter times in BA
(This photo is from Plaza de Mayo - Downtown in the heart of the city) I was thinking about how I wanted to post some pics of all the green spaces in this city. There are countless plazas and parks dotted throughout. Then the other day I honestly had a moment in one of them that I'll never forget. It's going to sound cheesy, but I seriously felt an amazing energy Sunday evening. It...
Watch
Let this video load fully so you can see the guy with the red silks do his trick at the end! (Sorry bad quality - I took it with my phone).  Park Las Heras, Buenos Aires.
I Wander.
Walking is the best way to see any city. Buenos Aires is a city to be explored by foot. My shoes were brand new when I arrived a week ago, and already the heel is worn down. You have to watch where you step here. The sidewalks can be narrow. There are missing pieces and gaping holes. It's summer here and it's very humid. Thousands of air conditioning units running full blast dripping...
Watch
Dancing in the streets! Buenos Aires, Argentina.
First Impressions, Staying in the moment, & Tango
I made it to Buenos Aires. It was a long haul… Vancouver, Washington, Chicago but I'm finally here! When I pulled up from the airport the landlord and a guy from the company I booked it through were waiting outside for me. They gave me the run down (translated by the company rep.), I paid them in cash, and they were gone. It finally sunk in when I was standing in here alone. I'm...
3 tags
Happy New Year: Hello South America!
What a year! It flew by so quickly. Time seems to be speeding up. I am taking this moment to say happy new year! I have quite the adventure booked for the start of 2012 so keep checking back here for photos, videos, and who knows what other updates there will be on dTour from South America!! Here's the itinerary: January 18-February 15: living and chilling in Buenos Aires, Argentina. I...
The Christmas Toy (detour from dTour) →
Christmas traditions are priceless. Peace and Love everyone:)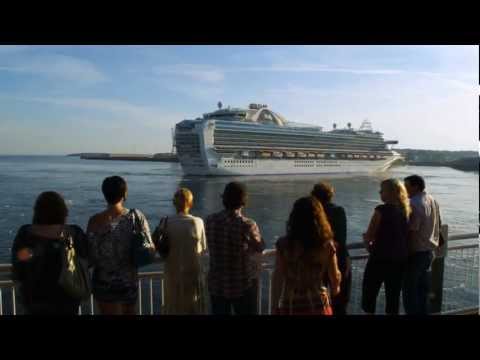 White Island: located roughly 50kms off the east...
We did a couple circles over the center before landing: This was by far one of the most mind blowing excursions I have ever done. It started with a heli flight out of Rotorua. With breathtaking views we hit the coast and it was ocean as far as the eye could see. The small volcano in the distance got closer and closer and it was just a surreal feeling to land on it. Partially because there...
CBC Radio Interview - Working as a Tour Director... →
Listen to this interview with CBC Radio - from Saint John, New Brunswick. 
Back in New Zealand... jumping out of planes...
People ask me about my time in New Zealand and what the highlight was. It's always difficult to answer that. There are moments that are so vivid in my memory for whatever reason, but that's what happens when you travel. You leave a place and  you're left with a bank full of random moments in time that almost don't seem real. I often ask myself: was that me?? I like to think...
2 tags
What gave me the bug so many years ago...
Here are exerpts from Kent Nerburns book "letters to my son". I am still inspired when I read this. I'll never forget when my close friend nick typed these words (yes, with a typewriter) on rice paper. He gave them to me in fredericton, N.B in 2003. I've kept them folded in a book on every trip since. Hopefully they inspire you too… " i would never be the same...
1 tag
November 14, 2011
I've been thinking about having a travel blog for a very long time. A couple weeks ago I finished touring around Canada and the US for another season (a very busy one - I might add) I finally have time to share some photos and stories about my travels. A year ago to the day I was in New Zealand. I won a 2 week trip through work and explored the North and South Island. It was an incredible...
1 tag